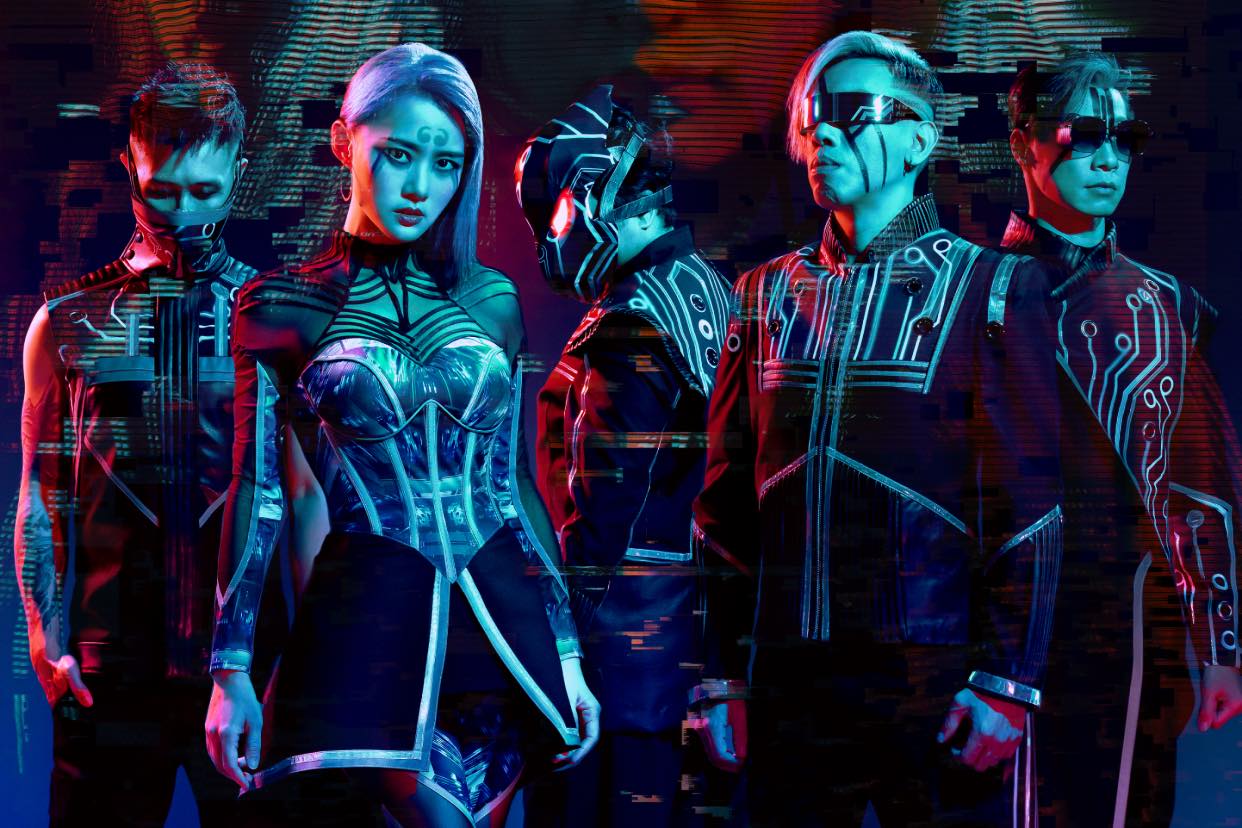 "MEGAPORT 2021", the live album features Chthonic and Audrey Tang's entire performance at 2021 MEGAPORT FESTIVAL. The album will be released with Chthonic's anti-epidemic gear, e.g., designed masks, as a special album bundle.
Audrey Tang, who is now the Digital Minister of Taiwan's cabinet, has actually been to Chthonic concerts many times before. He is an old friend of Freddy. In 2016, while Freddy got elected to Taiwan's parliament, Audrey Tang also joined the cabinet. Both of them have attracted the attention of many international news outlets. Now, they have shared a metal stage together, which was quite an epic moment.
In addition to the "brain controlling" voice of Audrey Tang, the songs were recomposed to match the overall theme. Songs like Takao, Supreme Pain for the Tyrant, Defenders of Bú-Tik Palace, Millennia's Faith Undone, and Flame upon the Weeping Winds were all infused with refined synthesizer effects. Moreover, Oceanquake and Set Fire to the Island have undergone an extensive remix with DrumNBass.
This album recorded Chthonic and Audrey Tang's epic live performance at 2021 MEGAPORT FESTIVAL, which was one of the few large-scale music festivals in the world that can still be held during the pandemic. Therefore, Chthonic released the album with Chthonic's anti-epidemic gear set.
Chthonic's anti-epidemic gear set is designed on the base of the "Tai (台)" character. The set contains Chthonic Black Armor Mask, Chthonic Multi-colored Mask, mask chain, mask storage folder, portable mask storage box, and spray can. The "Tai (台)" pattern derives from the "Tai (台)" logo that evolved along with Chthonic's concerts, from 2012 "Mass Battle", 2015 "'Defend the Nation", 2019 "Taiwan Victory" to 2021 "MEGAPORT". It has become an important totem of Chthonic. This time, the pattern has been developed into two styles. One is the armor style, symbolizing Taiwan's will in defending freedom; the other is the multi-colored version, which symbolizes the spirit of Taiwan: unity in diversity.
https://chthonic.tw/wp-content/uploads/2021/05/182218846_10158107500362285_653315660520254891_n.jpg
828
1242
ishohoku11
/wp-content/uploads/2018/09/Chthonic_Type_white.png
ishohoku11
2021-05-19 18:09:22
2021-05-20 18:16:25
CHTHONIC Special Album Bundle (with Anti- Epidemic Gear Set)