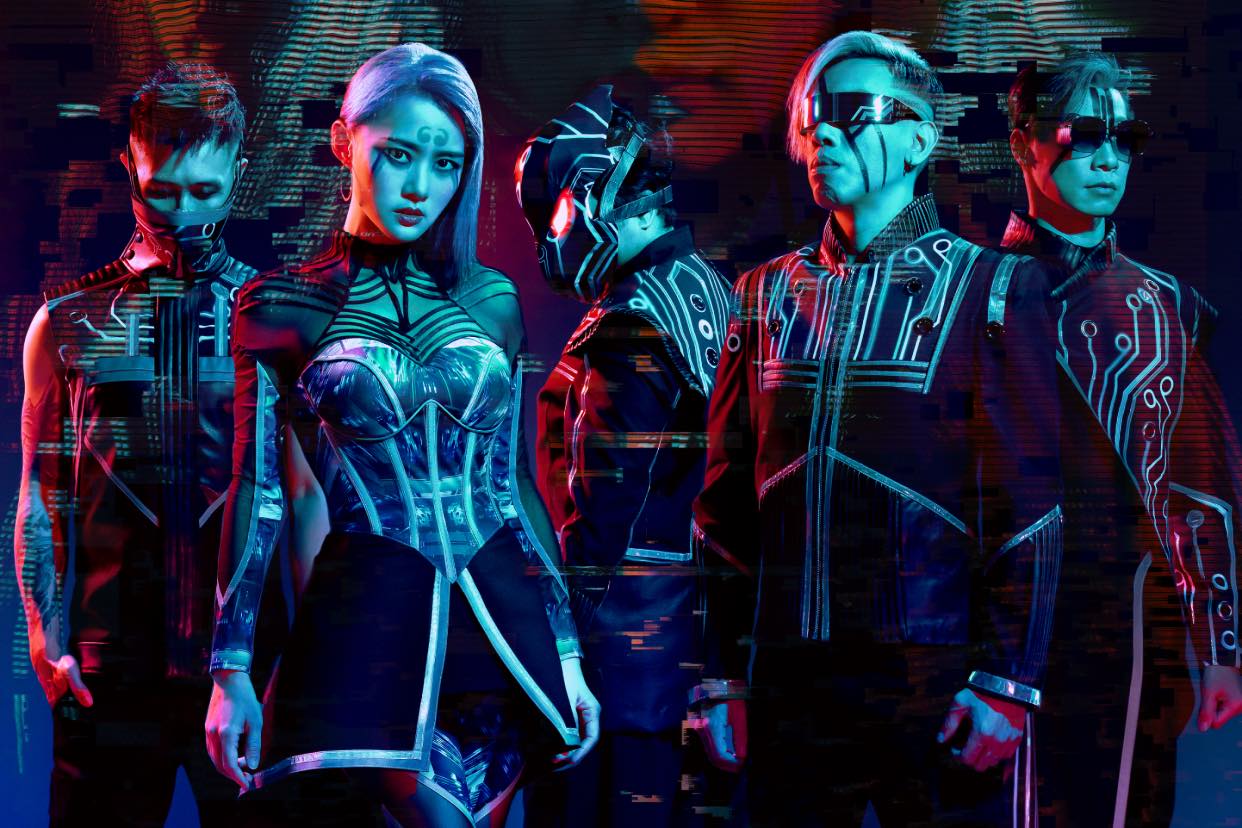 While Taiwan is considered home of Austronesian peoples, and a mystic island nation in the Orient, advanced technologies, modern cities, and upholding human rights and progressive values are also part of the image of Taiwan. The metal band Chthonic has given the best interpretation to the contrasting images of the country.
Chthonic's lyrics are inspired by Taiwanese mythology, folk stories, and history, and the music incorporates elements of traditional Taiwanese folk music, enka, and sorrowful melody from Taiwanese opera, accompanied by traditional Taiwanese musical instruments, such as hena, zheng -also known as "box zither"- and pgaku flute. Also integral parts of Chthonic's music are elements from contemporary symphonic black metal, melodic death metal, blood-boiling riffs and solos. Critiques have tried to label Chthonic's music as black metal, death metal or folk metal, but Chthonic has opted for simply "metal" for its simplicity and genuineness.
From Fuji Rock and Summer Sonic in Japan, to Ozzfest in the US, Download in the UK, and WOA in Germany, Chthonic has been to major music festivals around the world, and has had toured hundreds of shows in Europe, North America and Asia. It has also worked with many internationally renowned artists—Lamb of God's Randy Blythe, Trivium's Matt Heafy, guitarist Marty Friedman, Japanese folk singer Hajime Chitose, and Hong Kong diva Dennise Ho have all appeared in Chthonic's works.
In Taiwan, several of Chthonic's albums were on the pop-music charts, and the band has been awarded the "Golden Melody Award"-the Taiwanese version of the Grammy Award. Besides being Chthonic, band members are also active in different fields. Doris, the bassist and the band leader, has been advocating for women's rights, acted in movies, and has curated major rock music festivals; the drummer Dani is working in music education to bring up younger generation musicians; the guitarist Jesse and the keyboard player CJ are involved in production of many albums of Taiwanese bands; the lead vocalist, Freddy, is active in public affairs relating to human rights and social justice issues, and now he is a member of the Taiwanese parliament, elected in 2016, and re-elected in 2020.
With exception of its earlier works, Chthonic's albums include Seediq Bale (2007), Mirror of Retribution (2009), Takasago Army (2011), and Bú-Tik (2013) were all released worldwide, with positive feedbacks from music critiques. The band has turned low-profile with reduced number of performances after lead vocalist Freddy Lim was elected into the Parliament in 2016. But it still released the album Battlefields of Asura in 2018, which won the Golden Melody Award for Best Band, as well as a number of other nominations. In 2019, Chthonic held a concert with a symphony orchestra in the square in front of Taiwan's Presidential Office. It attracted 50,000 people, and its live video and audio was digitally released in 2020.
In 2021, the world continues to be overshadowed by the severe Covid-19 pandemic. Thanks to the relative success of Taiwan's epidemic prevention, in March Chthonic was able to headline the MEGAPORT FESTIVAL in Kaohsiung, Taiwan and later released a live album and video. In addition to commemorating this mass rock music festival that managed to be held as scheduled during the pandemic, the live album also encouraged everyone to hold onto the excitement of live performances. In the album, one could feel the bond between people formed by music, and keep a positive frame of mind to make through this pandemic together.